Dear Chamber Music Lovers and Friends of Swiss Chamber Concerts

,
In today's cultural life, do we really have any pre-programmed and pre-configured experiences, their emotions anticipated ahead of time?

Probably not too many.

But one significant exception is the experience of music as live performance.

And when it comes to chamber music, being part of the audience makes us feel particularly close to what is happening as the music unfolds.
This website details our programming for the 2023-24 season, including some information about the works to be performed.

But it can not be touched on the music itself that will be generated during the concert, on the creative moment of live performance, which remains unpredictable for musicians and audience alike.

Be assured, it is for you, our dear music lovers, that we plan and perform these programs.

Yet the ultimate effect can be achieved in your presence and your presence in the concert hall and your willingness to be enchanted by the encounter between your expectations and the world of the world. of performance.

This enchantment has cast its spell over people through the centuries,
And this can only happen in the live concert experience.

For more than 24 years we have been coming to Switzerland as well as abroad.

We thank you all for making this possible thanks to your contributions: whether as listeners, subscribers, or bosses;

as musicians or collaborators;

or as observers, critics, musicologists, or supporters.
In this spirit we are delighted to invite you to enjoy the new 2023-24 season of

Swiss Chamber Concerts

and look forward to seeing you at our concerts.
Jürg Dähler  (Zurich) /  Felix Renggli  (Basel) /  Daniel Haefliger  (Geneva)
Artistic Directors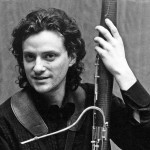 TOSHIO HOSOKAWA *1955
MASSIMILIANO MATESIC *1969
NIKOLAÏ RIMSKI-KORSAKOV 1844-1909
SÁNDOR VERESS 1907-1992
JOSEPH JONGEN 1873-1953